Conquistador Adventurers Ltd.
Dealing in Rental properties including Harbour Bay Shopping Centre
As a treasure searching company, Conquistador Adventurers Ltd. features the M.V. Sea Robin II, a boat registered under provisions of the Bahama Islands "Water Skiing and Motor Boat Control Act, 1970" as a "research" vessel. The vessel includes the following particulars:
Built in 1974 by Swift Ships, Inc. as supply vessel for Off-Shore Drilling rigs
Modified in 1994 for underwater salvage and treasure hunting
Official No.: NPO6199
Call Sign: C6T-2034
Hydraulic 15 ton telescoping boom mounted on port side
2 welded aluminum duct structures (4 feet diameter) fitted to stern, designed as diverters for the propeller wash to remove sand from the sea bed
Length, overall: 95.2 feet
Breadth, molded: 22.9 feet
Depth, molded: 12.3 feet
Draft, Summer (reported): 8.0 feet
Fresh Water Capacity: 6,000 gallons reported, 22.7 mt
Fuel Capacity: 11,300 gallons, 42 mt
Speed: 9 knots on about 3 tons per day
Main Engines: 2 Detroit Diesel 12V-71N diesel engines rated at 340 BHP through Twin Disc gears and fixed propellers
Electricity: 1 Detroit Diesel 4-71N driving a Kato 150kW electric generator and 1 Detroit Diesel 3-71N driving a Kato 75kW electric generator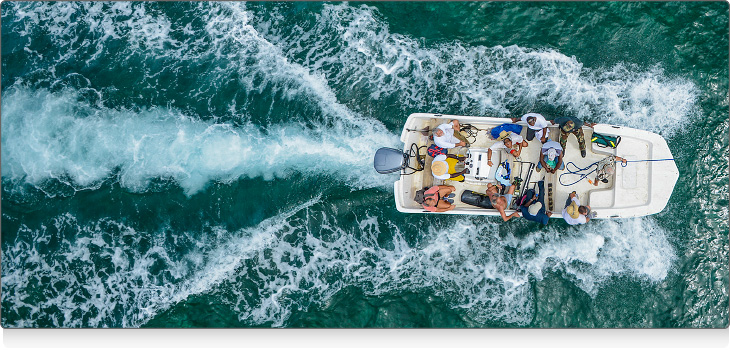 In addition to its primary activity of treasure hunting, the M.V. Sea Robin II served as a chief setting for the scenes in the 2005 film "Into the Blue".
Lyford Cay House
Western Road
P.O. Box N-641
Nassau, Bahamas
Tel: (242) 362-4018
Fax: (242) 362-4081
Contact: Milton Mosko
Email: mmosko@mosko.com